Rent Share Offices Commercial Spaces Montreal Quebec Canada
Construction contractors and professionals now have a place in Montreal, Quebec and in Canada to rent or share offices while having access to a wealth of services in order to find more customers and contracts in construction, engineering, architecture and design. The Construction Business Center not only offers office space for rent or to share, but a host of services, such as: marketing, advertising, building designers, a professional workforce, a secretariat, business administration, accounting and even contracts in construction, renovation, engineering, architecture and design. The self-employed entrepreneur can thus find a part-time accountant to assist him in his bookkeeping, assistance to do his advertising on the Web by creating a Website or promoting him on Google or also to recruit trainees or employees to draw plans, make structural calculations, project estimates and oversee the management of construction sites. The Construction Business Center is the first formula of its kind in Quebec and Canada allowing small budget companies to benefit from all the services of large enterprises to save costs.
Office to lease or to share in Montreal, Quebec, Canada for construction contractors and self-employed workers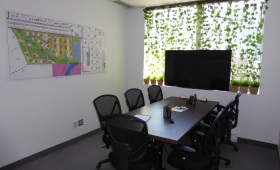 A self-employed general contractor or a company that operates with 1-5 employees usually does not have a suitable office to receive customers in a nice conference room with a credible and reputable team at his side to provide a set of services in design, architecture and engineering and, in addition, in order to obtain contracts there. The Construction Business Center of Montreal allows tenants entrepreneurs to have access there and businesses from outside of Montreal to have a branch in Montreal. The Construction Business Center of Montreal is led by Mr. Daniel Dargis, engineer, general contractor since 1989 and SEO Web-marketing expert. The Construction Business Center generates a stream of projects allowing members entrepreneurs to become better known through networking in action, while providing tools to do business in a more professional way: with offices, a post office box, parking facilities for trucks and equipment, warehouses, a technical, administrative and professional work force, and Web marketing.
Premises for rent and to share as a branch for foreign companies in Quebec and Canada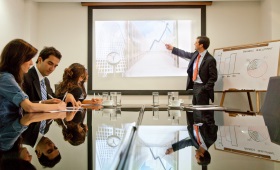 In the construction business, a company from outside Quebec, that wishes to settle in Quebec and even in Canada, has a definite advantage to be surrounded by experts and have access to a network to, firstly, know the laws and rules of the construction business in Quebec but also to have access to contracts. The Construction Business Center allows businesses from outside Quebec to open a branch in Quebec and Canada by not only getting an office, but also advice and resources to start their businesses, to advertise, to acquire a better image, to make estimates, to obtain and set up projects. Whether it is for foreign companies who are suppliers of materials, contractors, investors, service companies or real-estate developers, they can now have access to an office and a place of business in Montreal in the field of construction while having access to marketing experts in construction in Quebec and sales representatives and obtain contracts. The Construction Business Center of Montreal offers not only offices but it also trains entrepreneurs, professional managers and new immigrants looking for jobs and internships in order to obtain their operating licenses to realize contracts in Quebec. Moreover, the Construction Business Center receives contracts in construction and renovation which it distributes to its members: entrepreneurs, professionals, newly arrived immigrants and investors.
Offices for rent or to share in the field of construction, engineering, architecture and design to move from the virtual to the real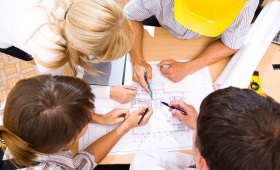 A host of companies specialized in Web advertising offer entrepreneurs the means to be ranked first on Google. However, what good is it for the entrepreneur to be in first place and receive calls that, when he receives calls, the entrepreneur is too busy or does not have a good image? The Construction Business Center takes care of not only publishing ads but also of receiving calls, give information, filter more or less serious client requests, provide office space and a place to do business, organize meetings and provide secondary technical assistance, in engineering or architecture, to assist the contractor, the supplier, developer or investor, to obtain contracts.
Now it is time to move from the virtual to reality with the Construction Business Center which goes beyond the needs of companies that need support to do business. The Construction of Business Center of Montreal is not managed by programmers but by professional engineers and Web marketing experts in the construction sector with concrete answers to customer needs.
Starting a business in a local and an office for rent or to share in Montreal, Quebec, Canada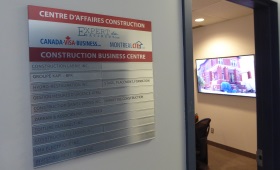 For a start-up business or for an experienced one that moves into new territory, having a local business with experience as an ally, receive training and the assistance of an experienced part-time workforce, is a definite advantage. The Construction Business Center brings together local and external complementary businesses, new ones and experienced companies that join forces to obtain more contracts, clients and projects. Thus, new construction contractors will be able to share offices with engineers, architects, suppliers of materials and even intern software trainers, as well as trainees in accounting and building design.
It is therefore possible to rent premises, full or part-time, while being able to use everything there is in it: such as equipment and freelance personnel. All of this without having to worry about the hiring of a full-time professional and administrative staff.
The Construction Business Center of Montreal is the first of its kind in Canada and it is led by a marketing expert-engineer-contractor to offer a range of services to new entrepreneurs in search of a better image or to companies from outside Quebec in order for them to have a foothold in Quebec and Eastern Canada in the construction sector.
Do not hesitate to contact us!