Administration, secretary and accounting agency for contractors and investors in Montreal, Quebec
The entrepreneur or investor, member of the Construction Business Center in Montreal, often needs administrative services to manage his business and his projects. The Business Center provides to him self-employed workers, graduates from Quebec with business administration experience to perform certain tasks related to: financing, administration, secretarial tasks or business accounting. And this full or part-time. The Construction Business Center aims to help entrepreneurs not only to obtain contracts and rent or share space but also to manage their businesses and projects.
The training of interns in a company is one of the social vocations of the Construction Business Center in Montreal. Dozens of educational institutions send their about-to-be graduates there and immigrants with degrees to do end-of-studies internships in accounting, administration, sales, marketing, engineering, architecture, interior design, building design and many others. The Construction Business Center in Montreal offers trainees who performed well during their internships the opportunity to meet with other companies in order to find full or part-time employment. The entrepreneur or investor, member of the Construction Business Center, has access to these elite candidates who often have not only a local degree in Quebec but also training and experience abroad in addition to knowing several languages.
Referral of financing, administrative, secretarial and accounting services at the Montreal construction industry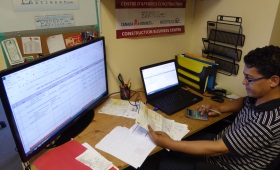 Nothing is better than being referred by a person or a company with a proven business contact. When it comes to seek a funding company or staff capable of undertaking administrative work, accounting or secretarial tasks, the Construction Business Center of Montreal refers to its members companies and the personnel working within the company or even interns who have distinguished themselves during their passage in the company. The entrepreneur or investor avoids the worry of doing a work of selection and, as such, many errors and administrative mismanagement. He can then focus on his projects knowing that a person of experience is responsible for receiving calls from customers and organizations, classifying invoices and doing the bookkeeping, managing licenses and permits and business projects and taking care of setting up fiscal files, tax records, and financing with banks and governments.
Part-time secretarial, administrative and accounting personnel in construction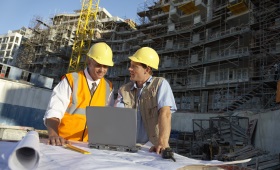 The local general contractor with 1 to 5 employees often has to work himself on projects and, in addition, during the evenings and weekends he has to take care of the administration and accounting of his business. There comes a time when the company cannot grow anymore unless it has access to staff or self-employed workers in part-time administrative, secretarial and accounting tasks. It is for this reason that the Construction Business Center has established a pool of part-time staff to help members entrepreneurs manage their businesses.
The immigrant investor will likewise find multilingual staff specially trained in administration, secretarial tasks and accounting in order to start his business, his company, a branch or his projects in Quebec. Another option is to get referrals of firms that are more structured in business law, construction law, international law, finance, tax, fiscal matters, accounting and administration.
The Construction Business Center in Montreal is an indispensable tool for local member entrepreneurs or foreign investors in matters of financing, administrative staff, secretarial workers and accounting.
Do not hesitate to contact us!